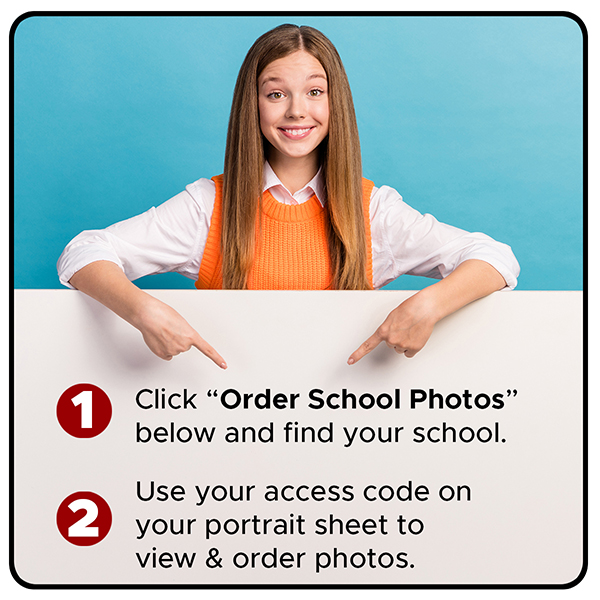 SCHOOL PHOTOS FAQ
When will my portraits be online?
Your child's photos will be uploaded to their online portrait gallery approximately 4-5 school days after school photo day. Find your school photo day

When will I receive my photo order?
Please allow 2-3 weeks from your schools order day deadline. Orders will be shipped to your school and then distributed to students to take home. If you place your order after the school's order day deadline, your order may take 4-6 weeks for delivery. See order day deadlines here

What payment types are accepted online?
Visa, MasterCard, American Express, Visa/Mastercard Debit and pre-paid credit cards are all accepted.

What if I don't have a credit card to order online?
If you don't have a credit card, don't worry! Call us at 204-729-0789 to make your order.

Can I order if I missed the order deadline?
Yes you can order after your schools order day deadline. However, please be aware that your order may take 4-6 weeks for delivery and additional direct to home shipping charges may apply. See order day deadlines here​

How do I receive my digital photo order?
All digital photo orders are direct download. Once you order you will be able to immediately download your images. If you've chosen to have any retouching done you will receive a separate email within a few days once your retouched images are ready to download.
Imperial Photo has proudly serviced
Brandon and area for over 15 years
Founded in 2007 and based in Brandon, Manitoba, our portrait studio specializes in professional photography services for School Photos, Graduation Portraits, and Sports Teams. While the majority of our photography takes place on location, we also offer in-studio personal photo sessions.
At Imperial Photo, we are committed to providing an exceptional portrait experience, and assisting our clients in preserving important memories for years to come. We take great pride in our ability to capture the unique essence of each special moment with the utmost care and expertise, and are dedicated to maintaining the high standards we have consistently upheld throughout our history.
Clients can place their trust in us to provide an outstanding photographic experience that exceeds their expectations. To learn more about our services or to schedule a session, please don't hesitate to contact us.Together, we can create a memory that will last a lifetime.